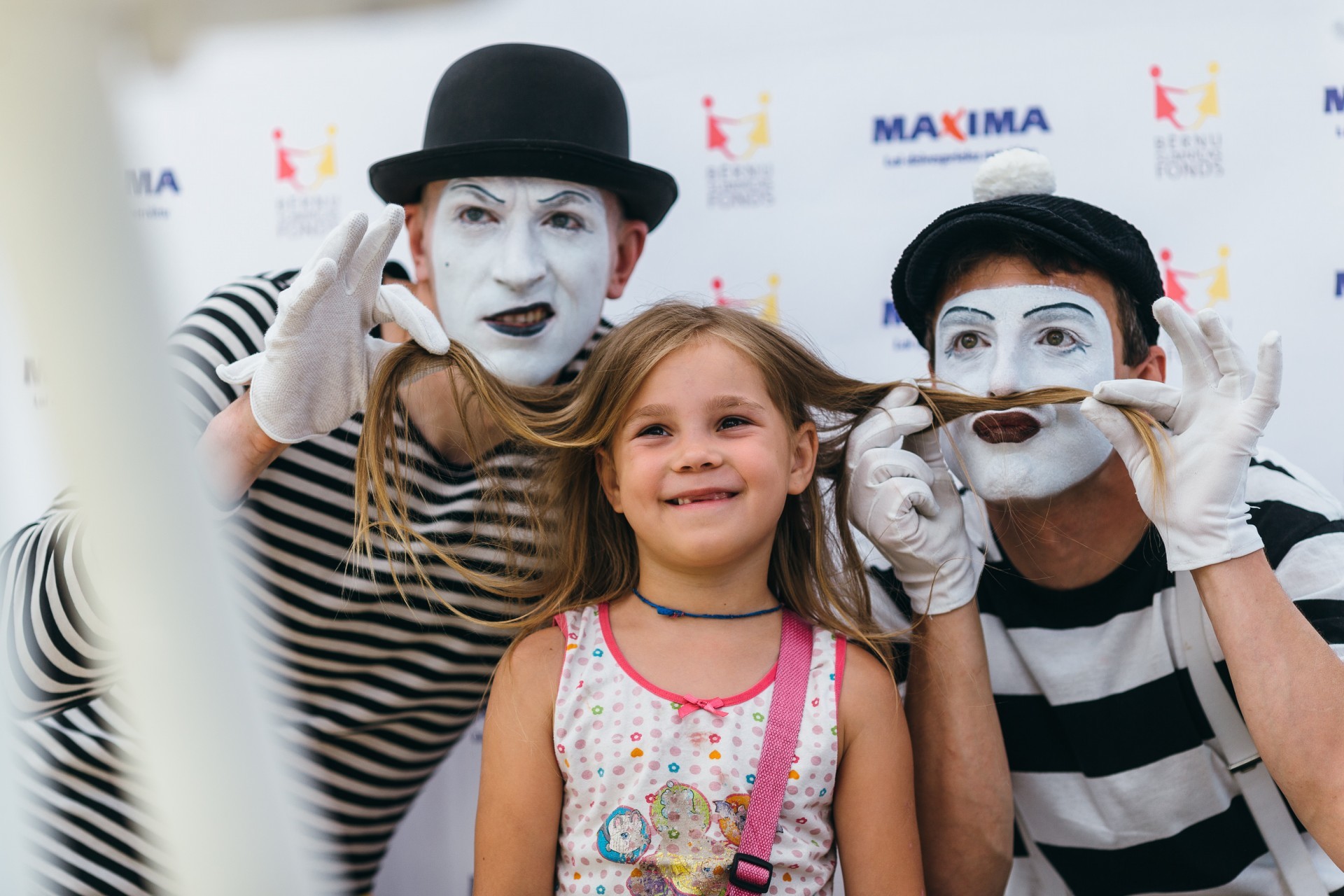 For the fourth year in a row the little patients of Children's Hospital, their parents and staff together celebrated the International Day for Protection of Children holding special Garden Party. Festive atmosphere was ensured not only by diverse attractions for the children and rich dinner provided by various restaurants and Latvian producers, but also by the visiting Latvian ice hockey and basketball players and sprightly relays of Kids Athletics cheering kids up and encouraging them to take up physical activities.
"This is a marvellous tradition that gather more and more little and adult participants every year! We are very grateful to the creators of the party – Maxima Latvija, amazing and cooperative restaurants that have found time and possibility to visit us and bring joy to small patients, their parents and nurses and doctors of the hospital; we are also thankful to the sportsmen involving children in various healthy activities. For children it is very sad to be at the Children's Hospital in summer and at the very beginning of summer holidays, therefore such a party that sticks in kids mind as a pleasant summer adventure brings very significant support and joy!", tells Liene Dambiņa, Director of the Foundation of Children's Hospital.
"The purpose of the Garden Party is to fully enjoy yourself even when you have to spend your time at the hospital. Well-being of families and children has always been one of the priorities of Maxima Latvija, therefore for already five years we closely cooperate with the Foundation of Children's Hospital together creating better daily life for children and their parents having to spend some time in the hospital," tells Andris Vilcmeiers, CEO of Maxima Latvija.
"The garden festival at the Children's Hospital celebrated the International Day for Protection of Children, it is a lovely tradition. It is the perfect opportunity for the little patients of the hospital and their parents to set aside their cares and worries and to laugh, enjoy food and just be together. On the International Day for Protection of Children, I would like to call on everyone not to remain passive in our daily activities, if a child needs help, let's be responsible and take action. There are no unfamiliar children here, for all the children are ours!" Iveta Vējone, First Lady of Latvia, emphasises.
During the Garden Party children together with the players of Latvian national basketball team competed in shot contest, but after that adults also got involved in tense table hockey tournament with players of ice hockey club Dinamo Rīga, creating plenty of pleasant emotions and sporty excitement.
Besides physical activities children could participate in creative workshops, play gigantic games and perpetuate the party in interesting photographs. The courtyard of Children's Hospital was filled with melodies by little singers from children's ensemble Rasa and by favourite singers Nikolajs Puzikovs and Madara Grēgere.
The party table with diverse and healthy menus provided for the Garden Party was laid by 12 restaurants and chefs, including, restaurant Neiburgs, restaurant Entresol, restaurant 36. līnija, shop of ecological and natural articles UNCE, pizzeria Pica Lulū, Valmiermuiža Brewery, SIA Orkla Foods Latvia, restaurants of hotels Mercure Riga Centre, Pullman Riga Old Town and Ibis belonging to AccorHotels Group, restaurant of Mālpils Manor, Meistara Marka – series of prepared food of Maxima, Skrīveru saldējums; at the tent of the Centre for Coordination of Rare Diseases it was possible to get acquainted to food prepared for people with various diets.
The Garden Party was made possible with an assistance of cooperation partner and general sponsor of Foundation of Children's Hospital – retail chain Maxima Latvija.