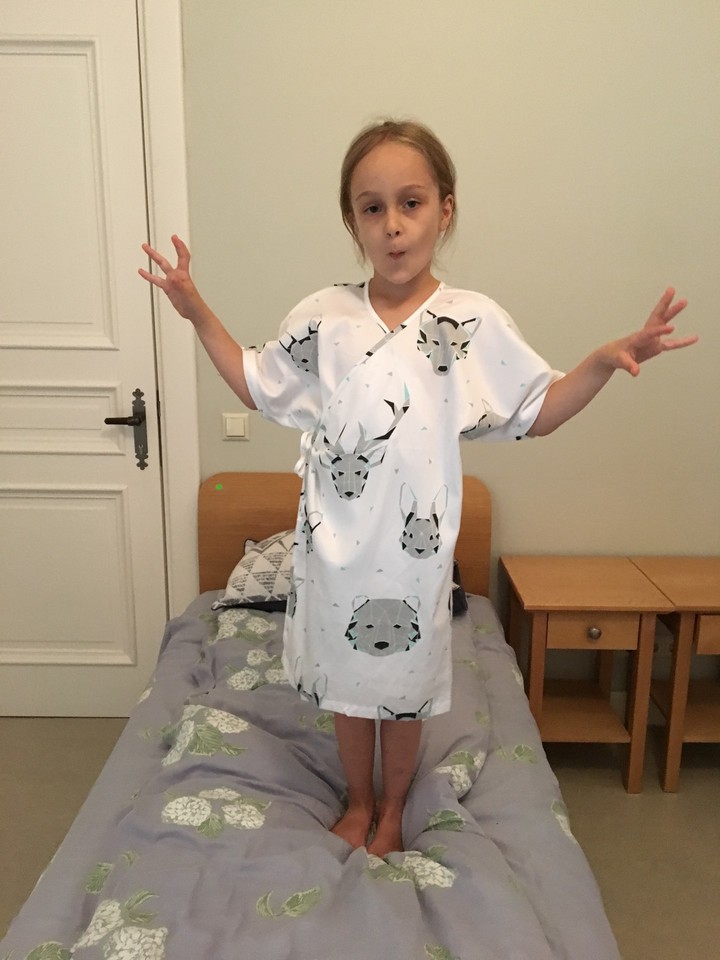 For several weeks the patients having surgery at the Surgery Department of the Children's Hospital put on special pyjamas, which were created in cooperation with Latvian kids clothing brand HEBE and thanks to the donation of the company Mikrotikls!
Every year nearly 9000 patients, who are children of different age, undergo surgery at the Surgery Department. Up to now they wore white, one-coloured surgery pyjamas. Caring for comfort of the young patients, it is important to pay attention and improve various medical treatment related things, therefore, a year and a half ago the Children's Hospital Foundation started implementing the new surgery pyjamas project, which would make children happier.
"Surgery is a serious challenge and stress for a child, so we would like to create the pyjamas, which would serve not only for a functional purpose, but also would be attractive and interesting. Finally, there was developed, in my opinion, a perfect pyjamas design with images of various animals from Latvian forests, encouraging the children and reducing their surgery-related fear.
We express our sincere gratitude to the team of HEBE for their support and creative solution, as well as for their patience, because surgery pyjamas have a lot of various specific details, which should be taken into account both during the process of their designing and manufacturing. A lot of thanks to our friends, the company Mikrotikls, for their support in the implementation of this idea!"
"It is very important for us that the child wearing HEBE clothes feels comfortable, especially in such a specific life situation when one has to go to the surgery room. A bit of joy created by nice pyjamas is a small step towards encouraging the child for a great, important work. Selecting certified organic cotton, we care not only for the environment, but also for the child's health, who wears the clothes we have created with love," emphasized Inga Blumberga, Head of the kids clothing brand HEBE.
Pyjamas are of the same design, so we have developed the most neutral model, which would be attractive for the children of different age. Up to now, sizes of pyjamas were a problem, but now pyjamas are of 7 sizes, beginning from 90 cm up to 180 cm. In the process of development of design and manufacture, specialists focused their attention also on various practical aspects, e.g. washing frequency and mode, aiming to create the pyjamas both visually attractive and serviceable.
Total costs of the project were 6027,62 euro!