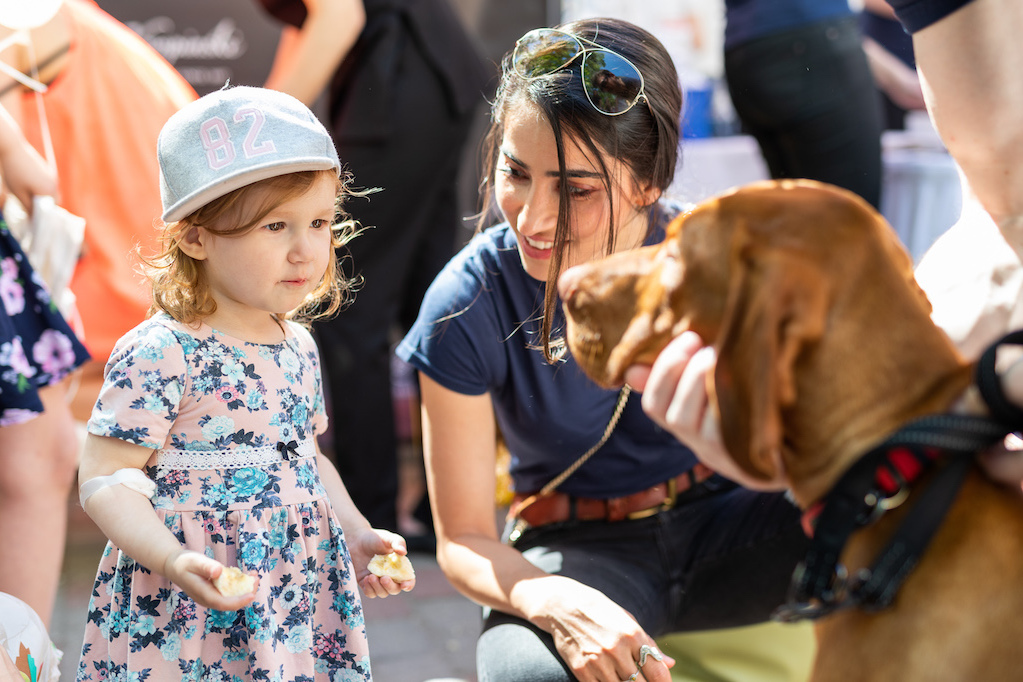 Yesterday, for the fifth year in a row, more than 300 visitors - young patients, parents and hospital staff - gathered for the Children's Hospital Garden Party, commemorating International Children's Day. A festive atmosphere was created not just by the varied children's attractions and the healthy, filling lunch provided by various restaurants and Latvian producers, but also by a bubble show, visiting Latvian hockey and basketball players, and fun races organized by Kids Athletics, bringing joy to the children and inspiring them to take part in physical activity.
"The Children's Hospital is celebrating its 120th anniversary this year, therefore we have planned several festivities together with our contributors and small patients. This year the anniversary celebration is opened by the Garden Festival that is gathering together contributors, children and their parents, and staff of the hospital for the fifth year already. Without support from society and contributions, the Children's Hospital would not have managed to implement many things that are essential for children's health and comfort. We are grateful to everyone who has helped in these years. The company Maxima Latvija is supporting the Children's Hospital for the fifth year already! It is very, very important to us because together we have helped hundreds of premature babies, as well as ensured the functioning of the Parent's House! The support from society is still important as donations are needed for more than 300 children every year to improve their health. Also, the development of the Children's Hospital in next 120 years is not possible without contributions, and we already have started new projects that will significantly improve the comfort of our small patients and their parents, as well as the overall level of treatment in the hospital," explains Head of the Children's Hospital Foundation Liene Dambiņa.
First Lady of Latvia Iveta Vējone noted in the opening of the event: "Life consists of small pleasures that we create ourselves or that our families and friends help us create. Positive emotional experiences and support help us overcome any difficulties. I would like to thank all the organizers and guests of the Garden Festival! I'm confident that laughter and happiness will help the young patients recover."
"The wellbeing of families and children has always been one of "Maxima Latvija's" priorities, which is why we have been working closely with the Children's Hospital Foundation for five years, together creating a better life for children who have to stay in the hospital for any length of time, as well as their parents. Over the course of our five-year collaboration, 302,000 Euro has been directed towards the wellbeing of hospitalized children, and several significant initiatives have been started. I am particularly pleased that we have been able to start the Children's Hospital Garden Party as a wonderful tradition now in its fifth year, because the aim of today's celebration is to give the young patients joy and let them have fun," explains "Maxima Latvija" Board Member Jānis Vanags.
During the garden party, the children and the Latvian women's basketball team tested their skills in a throwing contest, while later, adults as well as children joined in an intense table hockey tournament with Dinamo Riga Hockey Club players, which provoked great emotions and true sporting passion. Children also had the chance to test their athletics skills in "Kids Athletics" activities run by the Latvian Athletics Association.
In addition to physical activities, children were able to take part in creative workshops, play giant games, capture their celebrations in interesting photos and watch a bubble show.
Sixteen different restaurants and chefs provided varied, healthy menus for the Garden Party feast. They included: Maxima's Meistara Marka range of ready meals, the restaurants Neiburgs and Stockpot, organic and natural goods store UNCE, the restaurant at Mālpils Manor, the restaurants 36. līnija and Entresol, pizzeria Pica Lulu, Bliss Gelato ice cream, the Mercure Riga Centre hotel restaurant, Pullman Riga Old Town, drinks from the Valmiermuiža brewery, Rāmkalni, the restaurant at Kempinski Riga, and the restaurants Ozo and Bao Bun.
The Children's Hospital Foundation organized the Garden Party in collaboration with its long-term partner and sponsor: retail store chain "Maxima Latvija".