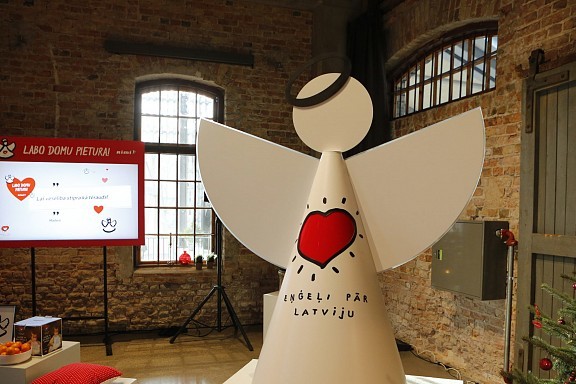 The most honourable charity campaign of the year Angels above Latvia has completed, raising the largest sum of money for the last five years – 472 388,55 euro, and helping 271 children throughout Latvia, the result that is nearly twice higher than initially planned.
The charity campaign Angels above Latvia is organized for the 12th time. Together with its supporters, Rimi Latvia store chain and the Children's Hospital Foundation, the campaign called on everyone to help 139 children, who are seriously ill, providing therapy, medicines, ancillary facilities, as well as innovative treatment and assistance in emergency situations. The campaign completed, with donations within its framework reaching 472 388,55 euro, being the highest result for the last five years. The raised funds will be used to help 271 children throughout Latvia, being by 132 children more than it was initially planned.
Use of funds raised within the framework of the campaign Angels above Latvia
Thanks to the sincere responsiveness of the donors – more than one third of the donations (145 000 euro) will be used to support the children with autistic spectre disorders (ABA therapy, ADOS tests, speech therapist advice), totally helping 110 children. A month-long intensive ABA therapy, which would cost to the family more than 1185,8 euro, was started in February for the kid Markuss (2,9), whose mother expresses a deep gratitude to the donors, helping recover the most valuable thing in her life – the health of her little son.
"I would like to say a lot of thanks to the Children's Hospital Foundation and the donors for the opportunity to get financial support for ABA therapy. Our little son suffers from atypical autism with developmental disorders, and ABA therapy helps him acquire vital skills, for example, to point with a finger, to understand what people say, etc. Our son even tries to repeat some words, he learns how to play with toys or other children and attempts to acquire other skills needed in everyday life. The program is developed for each child individually together with ABA therapy clinical psychologist," Markuss' mother said.
Support will be granted also to 76 children, suffering from diabetes, who need a long-time glucose monitoring system to constantly check the level of glycose in the inter-tissue liquid, reducing the necessity of finger-prick blood tests and helping avoid recurrence of the disease. These systems will be purchased for 109 440 euro.
90 518,55 euro out of the raised funds will be used for emergency situations. This amount will help nearly 55 children. Assistance has been provided since January. Support in emergency situations makes it possible to take urgent measures when the child needs medical treatment outside Latvia, to cover flight and accommodation costs, to conduct additional medical examination, diagnostics and to provide medicines not reimbursable by the State.
Technical auxiliary facilities will be delivered to 20 children with movement disorders (orthosis, orthopaedic footwear, SPIO clothes), which will cost 67 000 euro.
Vagus nerve stimulation therapy (VNS) will be provided to two epileptic patients, which will cost 49 830 EUR, and intra-canal electrodes will be used for epilepsy surgery for 8 children, which will cost 10 600 EUR.
A long-time supporter of the campaign, the store chain RIMI Latvia, expresses gratitude to everyone, who participated in the campaign, generously making donations in the boxes of Rimi store, at the website mansrimi.lv or buying any of the promotional products from the suppliers:
"Ever good job motivates to do bigger and better jobs. We are happy that the annual campaign Angels above Latvia was so much recognized, proving that we are able to reach the highest results by joint efforts. We express our sincere gratitude to Rimi buyers and cooperation partners for what we have done together. Let's continue with good deeds and strive for good goals!" offers Regina Ikala, Public Relations Manager of Rimi Latvia.
TV3 channel, store chain RIMI Latvia, Children's Hospital Foundation express gratitude to each of you and the society in general for the support, to each donor, who made the most valuable gift – the health and the possibility to be happy!