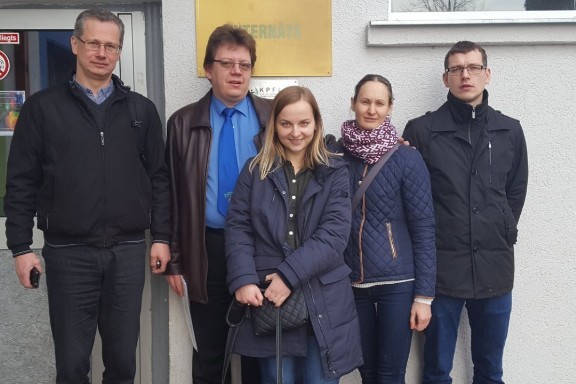 Our doctors are without brakes — they are ready to go to far places in Latvia to give their consultations to children at nursing homes free of charge!
We are glad and proud that the Children's Hospital is run by doctors who, despite the very tight work schedule, have launched a new, sincere initiative at the end of last year and joined the pilot project "Doctors without Brakes". The aim of the project is to give free consultations, to prescribe and carry out the necessary treatment for children in social centres located in far Latvian regions. The Children's Hospital Foundation supports doctors' access to patients and accommodation, as it takes several days to consult all children who need it.
Many children with health problems live in children's social care centres in different parts of Latvia. Getting to the specialists requires financial, staff and time resources, which are often limited to children's homes, which means that children get to specialists with delay. In a large number of problems, early diagnosis of pathology is the cornerstone for successful treatment, which in turn can significantly improve the quality of life of each patient and reduce dependence on the involvement of care staff in day-to-day activities.
The first pilot visit took place in December. Doctors sent information on offers to 8 children's care institutions in the Latgale planning region. 3 institutions responded to the invitation: Tilža Boarding School, Rēzekne Children's Social Services Centre and VSAC Latgale branch 'Kalkūni', where consultations to 36 patients were given. After the consultation, 9 patients were admitted to the scheduled surgery queque, while 11 patients were prescribed additional in-depth examination. The doctors' team included Dr. Jānis Upenieks (vertebrology), Dr.Ģirts Salmiņš (traumatology-orthopedics), Dr. Daila Pugačevska (urology), Dr.Artūrs Vīksne (general surgery) and physiotherapist Arta Gaile. Dr. Uldis Bergmanis — a neuro-orthopedist, and Dr. Uldis Ozols — a radiologist-diagnosic specialist were also involded in the project. The successful start of the project confirms the usefulness of such visits, so doctors are determined to continue this project! In 2018, similar visits are planned in the remaining 3 regions — Kurzeme, Vidzeme and Zemgale, as well as on-site consultation days in children's social care institutions in Riga.