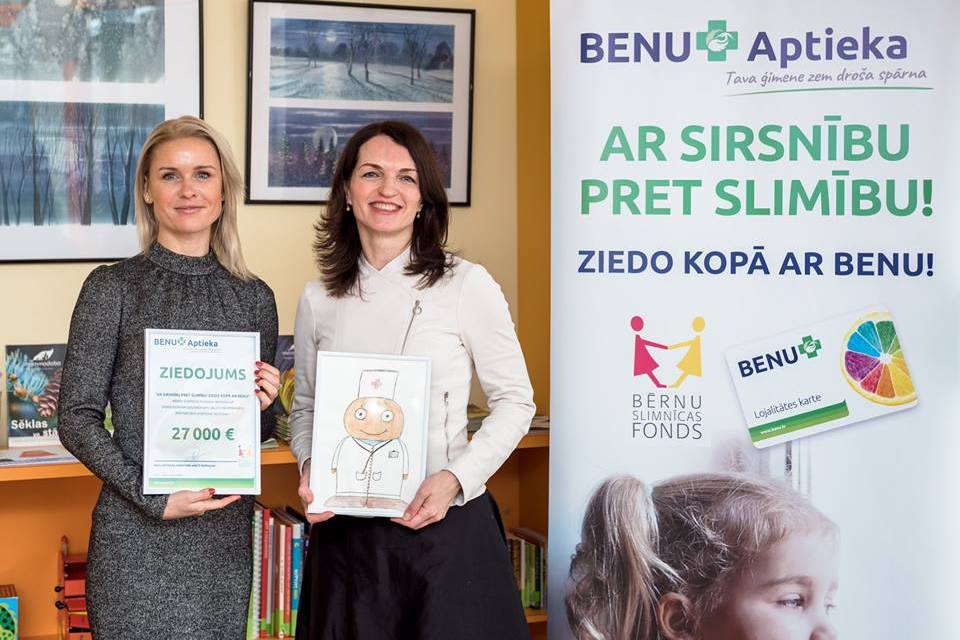 On the International Children's Oncology Day, February 16, the Children's Hospital Foundation received a big present — EUR 27,000 for Latvian children with cancer for coverage of medical expenses unpaid by the State. The funds were donated within the framework of the campaign "With sincerity to the disease! Donate with BENU!".
"We are very pleased and grateful for the responsiveness and assistance of the BENU Pharmacy customers in cooperation with the pharmacy chain management, at the end of last year! BENU Pharmacy's initiative to support children with oncological diseases is very valuable, because for little patients, peer support and donations is the only way to get the help they need. We very much hope that in the future the pharmacy chain customers will donate their loyalty card points they receive for the purchase to the children's health!" says Liene Dambiņa, Head of Children's Hospital Foundation.
Also, the director of BENU Pharmacy, Anete Rožkalna, is pleased and happy that she has been able to do a very good job with her customers — to raise this amount to help children who need it very much.
'In order not to stop at the amount of this donation, we also ask every BENU Pharmacy customer to continue to donate the points accumulated in the loyalty card for the purchases, to the campaign 'Sincerity to the disease! Donate with BENU'. In this way, we will together be able to help even more children with oncological diseases to cover medical expenses unpaid by the State," says Anete Rožkalna.