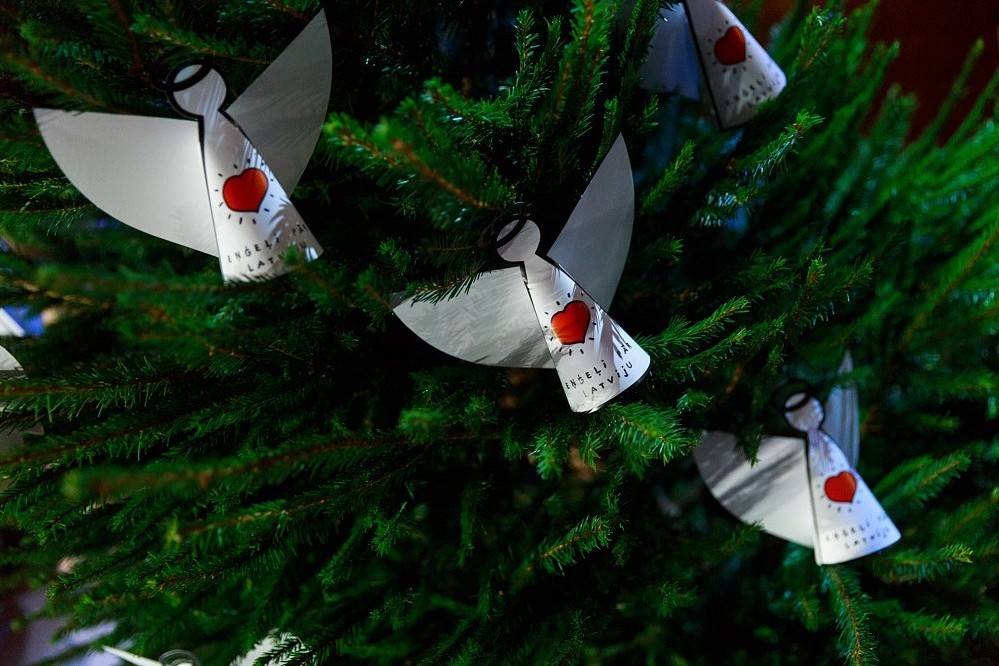 During the charity campaign "Angels above Latvia" that this year took place from 14 November to 28 February, EUR 249 695.56 were donated, which is the largest donated amount over the last three years, providing an opportunity to help 152 children across Latvia.
Charity campaign has been organized by LNT channel and company Rimi Latvia in cooperation with the Children's Hospital Foundation and Norvik Bank for 11 years already.
"In the area of health, changes are made in Latvia on a regular basis, which also affects children who need different type of assistance for their health improvement. This year, for the first time, we began to organize help for children with autism and other mental health problems, and we were very pleased with the responsiveness and willingness of people to help. There are also other children with very serious diseases who now can undergo surgery here – at the Children's Hospital, but such surgeries are not funded by the State. For each child, the amount donated during the campaign can help improve their health and feeling. We see the positive result when we meet the children we helped in previous years. We cannot even comprehend what would happen if there were no such charity campaign and how difficult it would be for hundreds of families throughout Latvia whose children have serious health problems. We sincerely thank all those who participated, donated or helped in any other way, so that the children receive the support they need this year," said Liene Dambiņa, Head of the Children's Hospital Foundation.
The distribution of the donated funds is as follows: EUR 99 478.92 — donated during LNT charity concert "Angels above Latvia", EUR 40 323.54 — in the account of the portal bsf.lv, while EUR 109 893 — in the donation boxes at Rimi and Supernetto chain stores, as well as when purchasing special "Angels above Latvia" goods of cooperation partners, which is the largest amount in our history of co-operation.
"In this campaign, we have experienced the greatest public support, reaffirming that we care about the life stories of others, and we are ready to give a helping hand to each other in situations which we cannot deal with on our own. Every day we see that help is needed both for big and small in different life moments, but 'Angels above Latvia' has become our tradition at the end of the year, giving support to those whose greatest gift is health," says Dace Preisa, Rimi Latvia Public Relations Manager.
This year, support for the improvement of health and quality of life is necessary for children with various health problems — for 39 children with autism, it is ABA therapy and assistance of various functional specialists such as an audio speech therapist and physiotherapist, 3 children need specific food, 10 children — orthoses or any other supplementary aid for the improvement of ability to walk, 20 children need doctor-recommended medicines not funded by the State, 15 children with severe allergies that cause severe itching and skin damage need special clothing and bandage that can be used at home, 3 children are waiting for surgeries not funded by the State, 8 children need various auxiliaries this year for them to be able to stay at home, and other 54 children are waiting for help ranging from diagnostics to support for treatment outside Latvia. All of the above health needs for children are recommended by doctors, but not paid by the State, and children's parents are not in a position to meet such needs themselves. Thanks to donations, this year we will be able to provide the necessary assistance to all children who need it.
In January, the Children's Hospital Foundation began providing assistance to several children, including to campaign's ambassadors - Vera, Miša and Alberts. Vera had a consultation at the beginning of March, for which the Foundation had attracted a specialist from Estonia in order to find suitable orthoses. The first speech therapist classes were paid to Miša in January and February, and very soon the boy will start ABA (Applied Behavior Analysis) therapy, while Alberts, thanks to contributors, is already actively attending ABA therapy classes.