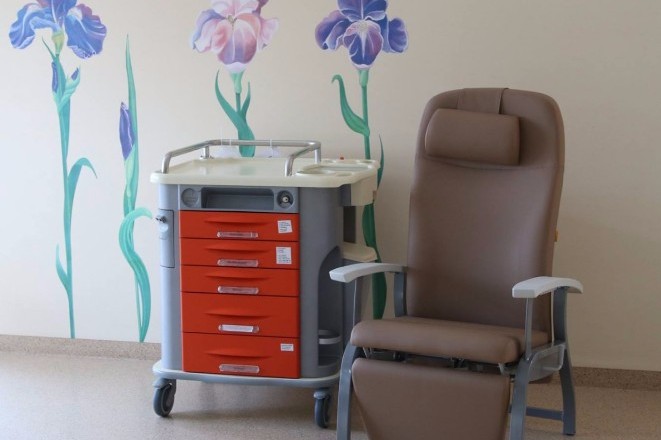 We have good news on the Prematurity Day! We wish health to kids and strength and love to partners!
Thanks to the donations, the Children's Hospital Infant Intensive Care Department has got 29 new and comfortable specialized chairs for parents of little patients, that will not only ease the everyday life of the children's parents, but will also help the little patients to recover faster and grow bigger! Within the framework of the charity campaign this spring, customers of Rimi and Supernetto chain stores donated EUR 21 483.76 for the purchase of specialized chairs to help little patients and their parents who keep their babies according to the so-called kangaroo method for a long time, thereby helping them recover and grow faster and more successfully.
"For almost a week, moms and dads of our very youngest patients can provide a support not only for themselves but also for the child in an appropriate and convenient way. November 17 is celebrated as the World Prematurity Day, and I have a great pleasure that we as peers continue to improve the care of premature babies, and support their parents. Sincere thanks to everyone who cares about our premature babies this time and other times, providing absolutely specific and highly needed help!" said Liene Dambiņa, Head of the Children's Hospital Foundation.
"Together, we have done a great job and can be proud! Initially, together with the Children's Hospital Foundation, we hoped to raise at least EUR 15 000 for the purchase of specialized chairs, therefore we would like to thank all visitors of Rimi and Supernetto throughout Latvia who helped fulfil this dream with the opportunity to provide suitable conditions for parents and children to recover," — says Inga Bite, Public Relations Manager, Rimi Latvia.
Little patients, sometimes weighing less than one kilogram, stay in special beds or incubators at the Children's Hospital and are connected to many devices that allow them to grow, become stronger and recover. But this is not enough, because every baby needs a touch of mom and dad every day. There is a widespread and scientific evidence-based treatment method known as the kangaroo method, when mom and dad have a baby on their chest for a long time. The opportunity to be close to each other and feel each other is important for both the child and the parents, and it is emotionally and physically challenging time.
Every year at the Children's Clinical University Hospital Infant Intensive Care Department, about 300 children from all over Latvia, who have been born prematurely or with serious health problems, receive treatment. To help little patients recover and grow bigger, the Department is equipped with modern technologies and experienced and knowledgeable doctors and nurses take care of children's health.