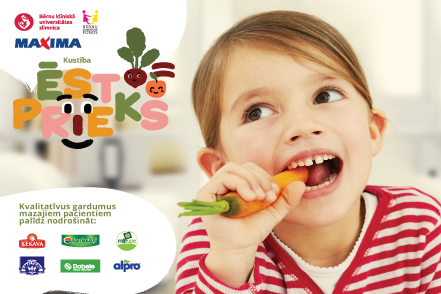 Pēdējās 30 dienās vietnē saziedots: 0 €
Every year, 15,000 patients are treated in the Children's Hospital inpatient facilities, who need wholesome, local, healthy and tasty food in the process of recovery. Now each of us can get involved to help provide the children with meals that will facilitate the recovery process and will become the most anticipated part of the day.
Donate
Purpose of the movement
There is a growing awareness in society of the importance of nutritious and delicious food in the recovery process for patients, which is particularly important for children and young people. A healthy meal enables the intake of all the necessary nutrients, as well as strengthening the body in the process of recovery. It is also important that the food is served to the child in attractive, appetizing portions. Therefore, the Children's Hospital has undergone a long-awaited change, the "Ēstprieks" (Latvian for 'Joy of Eating") movement has been launched, based on a new, modern menu that is specially adapted for children, which, hopefully, will promote the recovery process.
What has been achieved?
In the process of change, the concept of nutrition in the Children's Hospital has implemented the long-cherished idea of the much-needed renovation process in the kitchen of the hospital, where the cooking technologies had not changed for 20 years. Now child patients can enjoy local, balanced, delicious, colourful food, which, most importantly, is appropriate for their therapy. The menu, developed together with nutritionist Lizete Puga, includes 8 types of diets so that meals do not recur for the period of 10 days.
The opening of the new kitchen and catering concept is only the first step towards the implementation of the healthy eating movement "Ēstprieks". The inspirer of the initiative "Ēstprieks" is the company "Maxima Latvija" which together with responsible Latvian entrepreneurs is committed to providing patients in the Children's Hospital with local, fresh, and pure products that will allow the Children's Hospital chefs not only to prepare delicious and visually appealing food, but also to inspire children and parents to maintain their healthy eating habits when back at home.
How to get involved?
In order to provide the as delicious and varied meals as possible for the 15,000 child patients who are treated in the hospital of the Children's Hospital every year, the involvement of society and companies is also needed. Everyone can get involved – as individual or corporate supporters of the initiative.
You can donate to the development of the "Ēstprieks" initiative in all "Maxima" stores by buying products of the responsible companies: "Dobeles dzirnavnieks", "Smiltenes piens", "Alpro", "Baltijas dārzeņi" and Poultry Factory "Ķekava".
Companies willing to learn more about the possibility to donate or provide their products are invited to contact the Project Coordinator Austra Straume at austra.straume@bkus.lv.