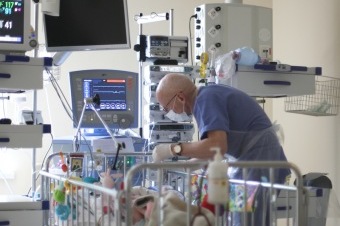 During the treatment adverse events or emergency situations can occur requiring an immediate response in order enable the child to get to a clinic in Europe that is the most adequate one for the particular illness.
Donate
In the situations when external help is needed outside Latvia in order to save the child's life or improve the state of health, the physicians from the Children's Hospital contact their colleagues abroad and manage the treatment process, whereas the Children's Hospital Foundation takes care of delivering the child and one parent, and in some occasions also the donor, to the clinic and their stay there. The Foundation also meets all the expenses that are not directly related to treatment itself, such as transfers to clinics abroad, staying together with the child (accommodation costs), laboratory tests (diagnostics), courier mail service for delivery of the test samples to a lab abroad etc. Only accumulating provisions for emergencies allows immediate response and a possibility to arrange help for patients in the above described and similar situations when the state support or the family's financial situation prevents from dealing with the issue.
At the moment when a child is diagnosed with a rare or very complicated illness, the parents are anxious and uncertain as to what is going to happen to the child. When the doctor announces that it is possible to help the child outside Latvia, parents have mixed feelings - it is pleasure and also concern how to deliver the child there, what the costs are going to be and whether there will be someone to help. We have been accumulating provisions for emergency situations based on our hard and tragic experience when sometimes there is too little time to raise money because the child has to leave for the clinic immediately to get the help. Now every parent can rely on getting help just on time, because numerous people have already donated money and still continue doing it, so that we can save children's lives and provide the assistance they need!
Read more about the assistance provided.