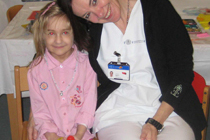 On 6 September 2010 my daughter Airita got poisoned after having a meal from white agaric mushroom.
Ligita Augstkalne, Airita's mother: Liver transplantation was needed, because my daughter was in a very critical condition at the Children's Hospital.
My husband Ģirts Augstkalns volunteered as donor. Airita and Ģirts were taken to Hamburg for transplantation surgery. I took a flight to Hamburg on 10 September, because my husband and my daughter were getting prepared on the night before 11 September when the surgery was scheduled, and I was extremely anxious about my two most beloved people.
The first three weeks I stayed near my husband in the ward, because I had to help him recover both physically and morally. No one was allowed to my daughter in the Intensive Therapy for the first weeks, but after that I could sit next to her from 10 in the morning till 8 at night. My daughter was discharged from Intensive Therapy on 6 October and admitted to Department No. 5, where she was recovering up to 22 November. I spent all this time with my daughter in the ward. My daughter learned that dad had given her his liver. "Dad gave me his liver so that I could be alive", Airita would explain to her granny after she returned home. My husband and I did not lose a hope for any single moment that doctors in Hamburg would be able to save our Airita. Hoping and believing is in God's hands.
My husband's decision to donate a part of his liver was spontaneous – every parent would do this to save the child. When we were going home, the feelings were mixed – enthusiasm and fear at the same time whether we'll cope. Treatment should be continued and the child's health monitored: blood pressure and temperature taken, and injections made in the morning and evening.
Once per five years, in Hamburg children suffering from very grave illnesses are given something they wish (the hospital fulfils the child's most cherished wish) – and Airita wanted a scooter.
I wish all children needing help to get well again, and let there be God and trust in everyone's heart!