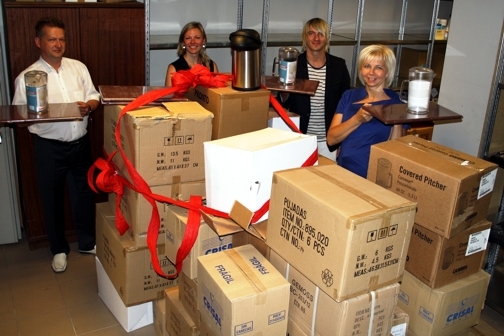 Often, the donation of products and services is very important to ease the daily lives of staff and small patients
Gemoss annually donates equipment to the Children's Clinical University's kitchen! We sincerely thank our cooperation partners for their support! Although we are extremely grateful for any donation, we regard long-term supporters as friends of the Children's Hospital and Foundation who trust us and our work.
In cooperation with the fleet management service provider Sixt Leasing the project Let's Go Home! has been implemented for 10 years. The transport company SIA Astramar Transport has also been supporting the project for the last three years. More information
In 2009, SIA Satori Alfa launched a project in which the patients from the Haemato Oncology Department are provided with a sea buckthorn nectar once a month which strengthens the patients' immunity, that is especially important for patients in this Department.
For 6 years, our friends Iļģuciema maiznīca — SIA FF Foods during the Christmas time have been travelling to villages with a large, large bag of hand-made gingerbread which can both big and little patients and their parents paint as they wish. Gingerbread parties are always great, fun and tasty!
In cooperation with the telecom operator Tele2, an interactive website www.izkrasopasauli.lv was created, where everyone was given the opportunity to help arrange the leisure and playroom for the patients of the Haemato Oncology Department and their parents. On the website, you could see the equipment of this room and you could donate to one of the necessary inventory items at your discretion.
Returning toys — once a mum of one boy called the Foundation and told that her son had decided to donate all his Lego stocks - a big bag - to little patients of the Children's Hospital! Now we have this bag with us! Thank you in the name of the little patients!
In the fashion and entertainment centre Riga Plaza, a wonderful charity pop-up shop was opened, where it was possible to purchase wonderful products made by Latvian designers and people with limited abilities. The funds received from the project were directed to the Children's Hospital for the purchase of rehabilitation equipment.