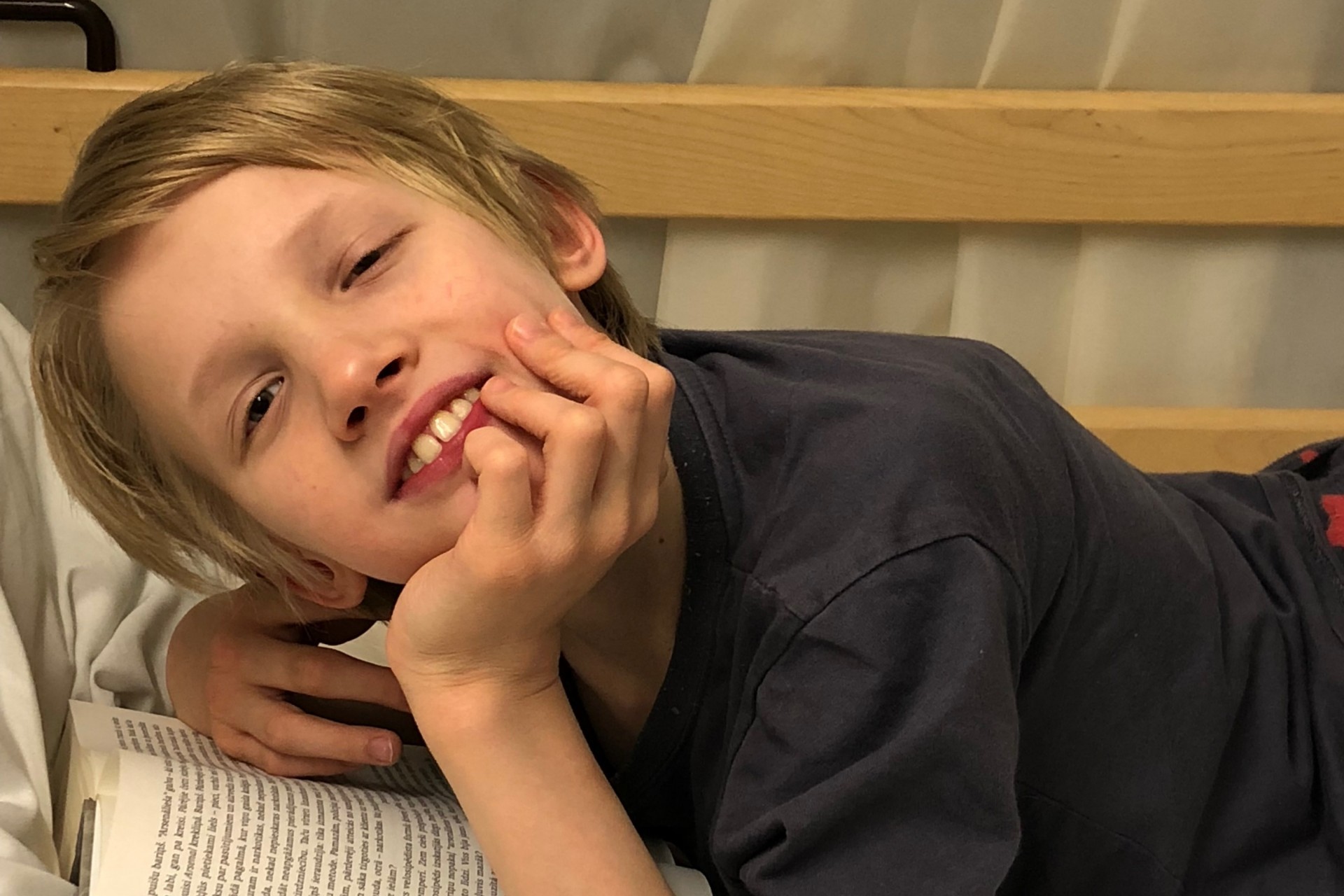 The support of "Day of Goodness" contributors gave Markuss opportunity to go to Denmark, where he had foot surgery and he got special orthoses.
Markus was born as a healthy baby, however, as he approached his first birthday, the doctors made it clear that he would be a special child with special needs — he would not walk, most likely would not speak and would not be able to do a lot of things with his hands. The boy was diagnosed with a paediatric cerebral stroke, spastic tetraparesis. The disease arose when a mother was infected by a virus infection during her pregnancy, which inflicted the brain damage to the baby.
For over 12 years, Markus's family and the boy has struggled steadily for every step and every move, and for the boy to survive the same as other children of his age. Markus's biggest problem is that he can walk only partly with the help of a walker and, unfortunately, he mostly moves in his wheelchair every day.
In 2011, he had a surgery, but in order for the boy to continue to grow, learn and try again to stand on his feet, he needed a leg-foot surgery with long-term rehabilitation. It was possible thanks to the contributors who participated in the Day of Goodness, and in Germany Markus underwent a muscle extension and both leg-foot surgery, as well as special orthoses were made for him.
Thanks to the surgery and rehabilitation, the boy has already begun to walk more and every day moves with a walker at school, but, of course, the work does not stop. He and his mom regularly attend physiotherapy classes and exercise at home. The boy slowly manages both to improve his posture and to stabilize his right side of the body, which is weaker and disturbs the stability and movements.
Markus is curious, reads books, draws and is also happy to ask questions. Despite the doctors said, the boy is also writing and calculating. He studies at Riga 66th Secondary School, as well as he attends classes at P.Jurjāna Music School. Markus's interests are most related to music (Dzelzs Vilks, Instrumenti and Brainstorm) and, of course, computers.
One of the boy's biggest dreams was to play music with the musicians from the band Dzelzs Vilks, and his dream was fulfilled in the framework of the Day of Goodness! Markus was excited and thrilled before meeting with the band. A boy learns to play the piano and percussion instruments, and has a dream to become a musician in the future. Markus loves playing music. His family hopes that once he will climb the stage on his own.
The family says a big thanks to the well-wishers!