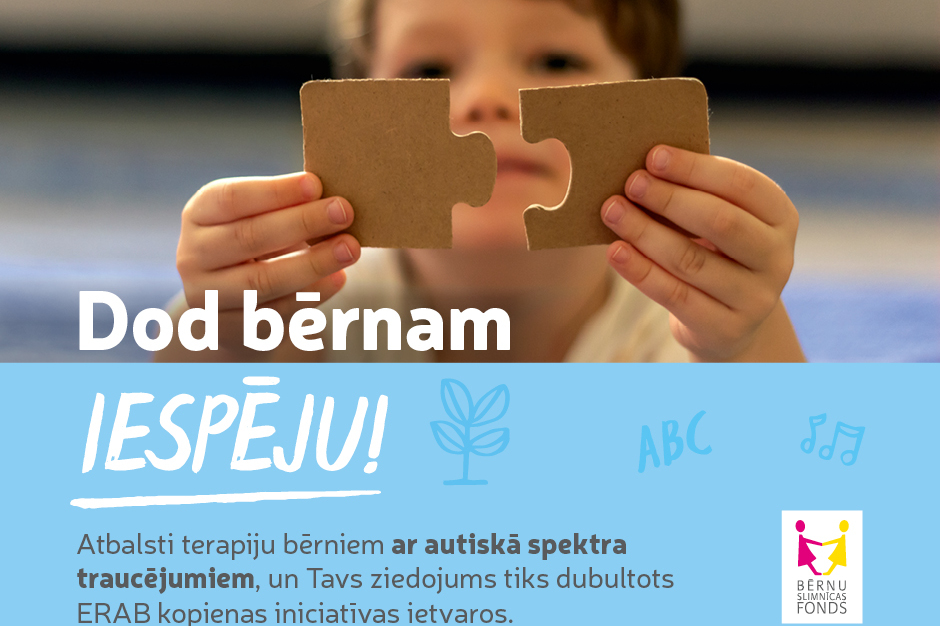 Necessary funds:
50000 EUR
Data renewed: 18.05.2021.
Information is updated once a week
Donate
The initiative aims to help 40 children with autism spectrum disorder (ASD) by providing the early treatment. It has been scientifically proven that the earlier ASD is diagnosed, and appropriate and evidence-based treatment is provided sequentially, the better the future prospects for children to adapt to society. We sincerely believe that all children deserve the best medical care, regardless of their parents' financial means, so we call for help and support for children!
Each donation is doubled!
To provide therapy for 40 children with ASD under the age of 5, 100,000 Euro are needed! Our goal is to raise 50,000 Euro in donations, which will be doubled by the EBRD*, thus helping 40 children!
* The Children's Hospital Foundation is an organization selected by the European Bank for Reconstruction and Development (EBRD) Community Initiative in 2020, which is to add exactly the same amount as the donations received from individuals between 10 December 2020 and 10 June 2021**.
There will be another Euro for each Euro donated, € 10 for each € 10, and € 100 for each € 100 donated.
What is Autism Spectrum Disorder (ASD)
Childhood autism is a disorder associated with the development of the nervous system. At present, the causes of childhood autism are not yet fully known. Autism is a spectrum of disorders, so it is often described as Autistic Spectrum Disorder (ASD).
ASD is manifested by a set of features and functionalities that is different in each individual case. In general, ASD can be described as a lifelong disorder that affects the way a person communicates with others and sees the world around themselves.
Each of the 40 children has their own difficulties, which can be solved by providing appropriate therapy – to acquire or improve speaking skills, socialization skills, which in childhood means communication with parents and family, with other children in kindergarten or playground, the ability to dress and other self-care skills, as well as many other things that are usually taken for granted.
Unfortunately, therapies that help children with ASD are still not paid for by the state, and these costs must be borne by the child's family. The approximate cost, including ABA therapy, speech therapist and other evidence-based therapies, averages EUR 2,500 per child per year.
Many families are unable to cover the costs of their child's treatment and therefore turn to society for help. The Children's Hospital Foundation (BSF) has been taking care of children with ASD for several years now, and we have already provided support to 500 children during these years.
Autism Room
BSF has also created the first Autism Room in Latvia, where parents or caregivers raising a child with ASD can receive free psychological help and counselling, has created a website www.autismsberniem.lv, where one can find information in Latvian about autism, its symptoms and opportunities to receive help, as well as regularly finances the parent's participation in training groups, where a specialist helps the parents of an ASD child to acquire practical skills and abilities, so that they can help their child more successfully on a daily basis.
** EBRD Community Initiative 2020 support pledge will be valid if donation and reporting requirements are met.