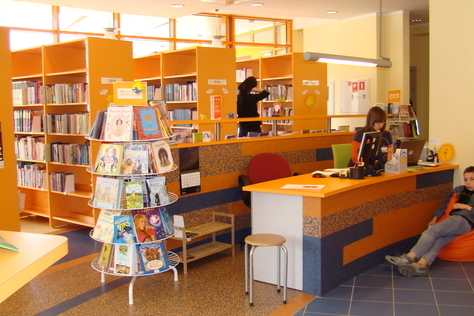 The library is the cultural, recreational and education center of the Children's Hospital, where everybody is most welcome!
Donate
In 2006, at the Christmas time, the new Sunny days library opened its door at the Children's hospital! To make this miracle happen, we owe a gratitude to many donors from Latvia who supported the charity campaign Saulainas dienas mūsu bērniem (Sunny days for our children) organised by the newspaper Diena. On day-to-day basis, the library is run by the Riga Central Library, providing professional information services.
Both in-patients, who have to stay in the hospital for a long time, as well as those who come in just for an individual treatment procedure can use the library services. Despite the fact that the patients have to follow their regimen at the hospital and have to take numerous medical treatment procedures, the Sunny Days Library nevertheless has about 100 visitors per day.
For children and for parents
The computers accessible in the library are used both by children and their parents who need to print out laboratory test results to show them when visiting the doctor. As to children, celebrations are organised here on a regular basis, because children continue to be children also at a hospital, and they need joy and positive emotions so much!
"Books are highly appreciated at the Children's Hospital. There are children to whom the hospital has become their home, and they go to bed and get up with a book tucked under the pillow. The nice and positive environment governing in the library is also important. Therefore, library is the place where children can learn about the world outside, and the shine in their eyes is genuine - it speaks of excitement, discovery and miracle!"